Mobile Apps
Download our free apps available for iPhone® and Android™ devices for quick and easy access to your accounts. All of our apps are absolutely free to download and install on all of your devices.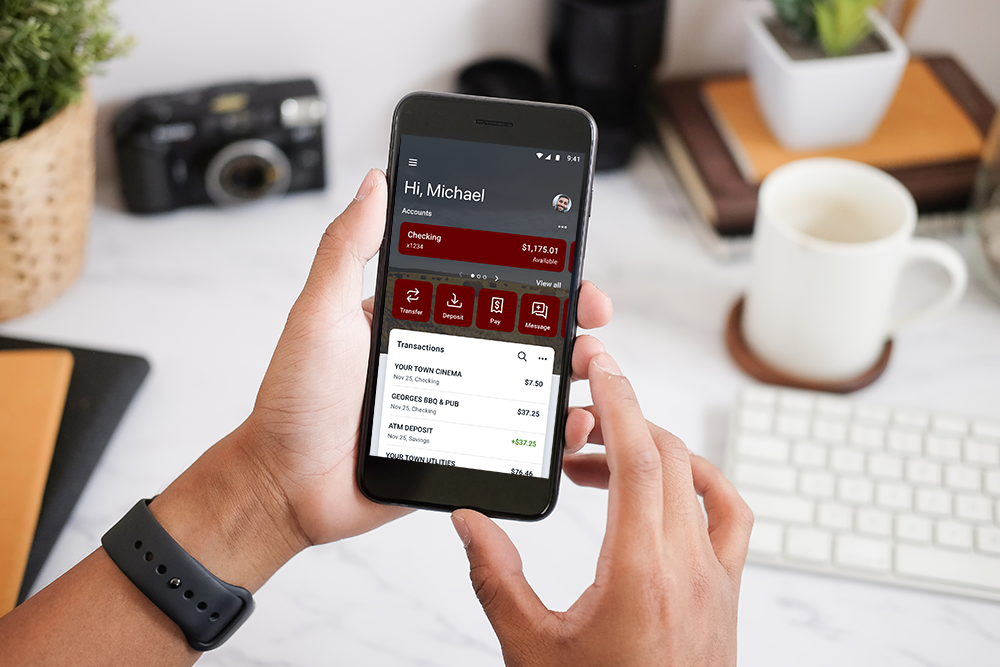 Features
Touch ID or PIN authentication

Easily and securely log in using fingerprint or a personal identification number

View balances and account activity

Search for transactions, add a note or an image, and filter by tags. Understand you activity and find what you're looking for fast!

Make deposits with the snap of your camera

Deposit checks into qualified accounts using the mobile deposit feature.

Bill pay and person-to-person payments

Pay bills or send money to friend and family quickly and securely.

Transfer funds

Effortlessly initiate on-time, future date or repeating transfers

Personalize your app

Arrange the app's features in a way that makes the most sense to you. Customize the app on a per-device basis and move things around however you like.

View Branch and ATM Locations

Find the nearest ATM or locate a branch using your current location.
Security
We employ state-of-the-art technology to keep information secure. All sensitive information is encrypted and access requires strong passwords that only you know. Always download our apps using the direct links provided on our website rather than searching the app stores. Using the direct links is for your safety and helps prevent the downloading of malicious or spoofed apps.


iTunes App Store™

Our native iPhone app provides convenient access to your accounts by utilizing the advanced features of an iPhone. Download our iPhone app from the iTunes App Store today to get started with mobile banking. To access our app click on the App Store icon or search for it on the app store.
Android App - Google Play™

Download our Android app to any of your devices for quick access to all of your online banking accounts. Google Play is available on nearly all Android devices and allows for the quick and easy installation of our app.