Mobile Apps
Download our free apps available for iPhone® and Android™ devices for quick and easy access to your accounts. All of our apps are absolutely free to download and install on all of your devices.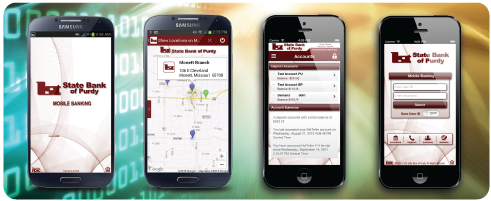 Features
View your transactions for each account

Transfer funds between your linked accounts

View deposit and check images.

Pay bills

Easily locate nearby bank and ATM locations

Quickly find hours of business for each of our branches

Security
We employ state-of-the-art technology to keep information secure. All sensitive information is encrypted and access requires strong passwords that only you know. Always download our apps using the direct links provided on our website rather than searching the app stores. Using the direct links is for your safety and helps prevent the downloading of malicious or spoofed apps.
Important Information
An active NetTeller account is required to utilize any of the account activities of our app. To signup for a NetTeller account please submit a NetTeller Application to receive login credentials.

Online BillPay must be setup using the full website version of NetTeller prior to use with our App. 

iTunes App Store™
Our native iPhone app provides convenient access to your accounts by utilizing the advanced features of an iPhone. Download our iPhone app from the iTunes App Store today to get started with mobile banking. To access our app click on the App Store icon below or scan the QR code below using a QR Code reader app installed on your phone.
Android App - Google Play™
Download our Android app to any of your devices for quick access to all of your online banking accounts. Google Play is available on nearly all Android devices and allows for the quick and easy installation of our app.

Amazon® App Store

Our Android app is also available on the Amazon AppStore. Devices must have the Amazon AppStore installed on their device prior to installing our app. For instruction on installing the Amazon AppStore please visit www.amazon.com/amazonappstoreapp .