1ST ON FRONT

Shop Local. Eat Local. Listen Local. Bank Local. 
First State Bank of Purdy is hosting live, local music & food trucks in Downtown Monett, MO at our community event "1ST ON FRONT." 
1ST ON FRONT is a community celebration that spot lights local business and talent, and the importance of shopping local, eating local, listening local, and banking local. A Southwest Missouri event for all ages showing the importance of community and bringing people together.
The 1ST ON FRONT event is FREE to the public and staffed by a volunteer team of employees from First State Bank of Purdy. Follow our Official 1st On Front Facebook page to receive updates and additional event information.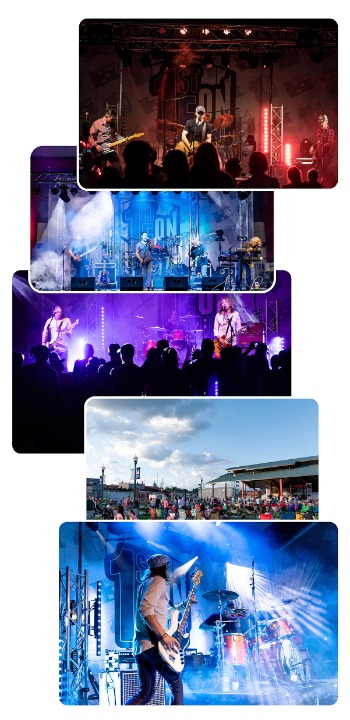 EVENT DATES

1ST ON FRONT will take place on the First Friday of June & July. The 2023 event is scheduled for June 2 & July 7, 2023 from 6:00pm through 10:00pm. Stay tuned and follow our Official 1st On Front Facebook page for for further announcements!
June 2nd, 2023 Scheduled Performances
Clayton Ray Trio
Route 3
Mark Chapman Band
July 7th, 2023 Scheduled Performances
Jessica Horn Band
Jake Stringer
Members Only
LOCATION
1ST ON FRONT is hosted in Downtown Monett Missouri at the Glen and Sharon Garrett Downtown Park on Front Street between 4th and 5th streets. The main stage is located beneath the 8,000-square-foot covered Jerry D. Hall Memorial Pavilion facing a large outdoor space. Food trucks will be setup along 5th and Front streets and traffic will be blocked on Front street and 5th street near the event. Free parking is available in lots to the southwest and east sides of the event. Additional parking is available along Broadway street, a parking lot at 6th street and Broadway street, and an additional parking lot at 2nd street and Bond street.
VENDOR INFORMATION

Visit our Vendor Info page for more information.
SOCIAL MEDIA

Follow us on Facebook, Twitter, and Instagram @FIRSTONFRONT to hear about all of our exciting plans and event news. Also be sure to follow our official First State Bank pages @FSBPURDY on Facebook & Instagram and @FSBofPURDY on Twitter.

We welcome your feedback and encourage everyone to share their experiences at our event using our official hashtag of #1STONFRONT
PAST 1ST ON FRONT PERFORMANCES
Lucas Gates Band
Laura Ashley
Mark Chapman Band
Rocked N Loaded
Better Than Nothin'
Porter Union
Screendoor Serenade
The Playboyz
The Black Moods
The Pretty Lonesome
Jake Stringer & Better Than Nothin'
Route 3
Dawson Hollow
The Dirty Saints
Hunter Hathcoat
Makenna & Brock
Mariachi Joya Azteca of NW Arkansas
Dial Up
Please send inquires regarding 1ST ON FRONT to firstonfront@fsb-purdy.com or call us at (800) 391-2535.